The "I wear a mask…" graphics were crafted to appeal to all Vermonters, including parents and guardians, high-risk individuals, grandparents, young adults, frontline workers and those who love our state. They made their way onto posters, social media and ads, which were viewed and shared widely, always with a #MasksOnVT reference for campaign recognition and visibility.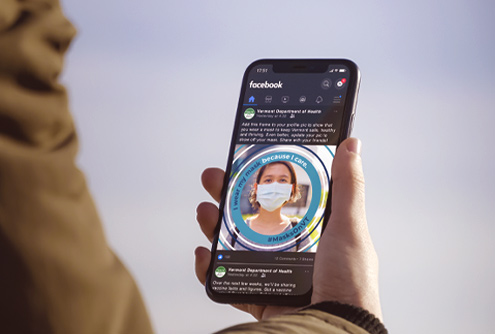 In order to make the toolkit as versatile as it could possibly be, we included social media, email and blog templates, imagery with spaces to customize messaging, and even Facebook profile picture frames, where supporters and partners could share that they had masked up to help keep the community healthy. These were enthusiastically shared and used during a pivotal point in the pandemic.
As much of a success as these initial efforts were, reaching teens, young adults and those who appreciate a lighter take on the benefits of masking required special attention: thus, the Masked Art History creative's rollout. While the Digital Marketing department worked behind the scenes to identify famous works of art, the Design team seamlessly added surgical masks to the subjects of some of the world's most famous works. It helped in "painting the idea of a brighter future" for Vermont, made possible by those masking up to save lives.