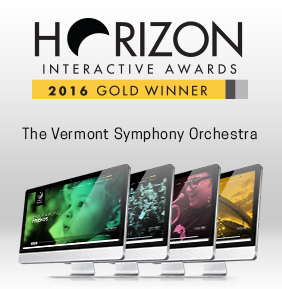 Hark Wins Gold From Horizon Interactive Awards for VSO Site
Author:
Meagan Bronson
| April 7
Hark is proud to announce their web design and development for the Vermont Symphony Orchestra (VSO) has been awarded Gold Winner by the Horizon Interactive Awards in the Entertainment Industry Websites category.
The Horizon Interactive Awards competition recognizes, promotes and awards excellence in interactive media production. As of this year, they have received over ten thousand entries from the US and forty international countries. The judging is conducted by a volunteer panel representing a diverse international background from all levels of the interactive media industry and related fields. The jury holds a final "end user" focus group to determine the winners. In categories of websites, mobile apps, video, interactive, print, email, and online advertising, entries are judged on UX/Design, Creativity, Technicality, Messaging and Effectiveness.
Hark Founder Jeffrey Harkness remarks, "My team and I are amazed and honored by the attention our work on the VSO project has received. Competing head-to-head among our peers in this competitive arena has given us a greater appreciation of the amazing design work being created."
ABOUT HARK
Founded in 2009, Hark has since strived to bring creativity and passion to each company – both large and small – to help them stand out in the current crowded digital marketplace. Ranging from full-scale web design and e-commerce implementations to corporate branding solutions and microsites, Hark has always delivered creative, impactful solutions for the most challenging design and marketing projects. For more information, visit hark.bz.
ABOUT THE HORIZON INTERACTIVE AWARDS
Now in its 15th season, The Horizon Interactive Awards has become one of the most prestigious awards in the field of interactive and creative media. The competition recognizes, promotes and awards the best websites, videos, online advertising, print media and mobile applications.
Want to learn more about how Hark can help?