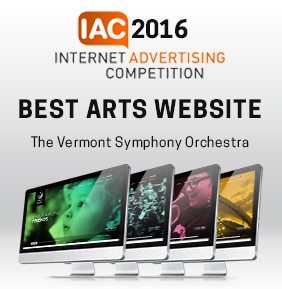 Hark Awarded Best Arts Website for VSO
Author:
Patrick Lemay
| March 31
Hark is pleased and honored to announce their web design for the Vermont Symphony Orchestra (VSO) has won Best Arts Website from Web Marketing Association's 2017 Internet Advertising Competition (IAC).
This IAC was created in 1999 to highlight internet advertising work in 96 industries and nine online formats including online ad, video, mobile, newsletter, email and social media. This annual awards competition is solely devoted to the recognition of outstanding online advertising in all of its various forms.
Representing all sectors of the advertising and Internet worlds, the judges are experienced professionals with in-depth understanding of current state-of-the-art advertising design and technology. Entries are judged on creativity, innovation, impact, design, copywriting, memorability, and the use of the medium.
Hark founder Jeffrey Harkness states, "My team and I are particularly proud of the Vermont Symphony Orchestra project and the work that went into creating a world-class site. Taking a traditional, cultural entity like the VSO, digitally rebranding, and successfully modernizing the look and feel of their website possessed all the elements of what we love and do best at Hark."
ABOUT HARK
Founded in 2009, Hark has since strived to bring creativity and passion to each company – both large and small – to help them stand out in the current crowded digital marketplace. Ranging from full-scale web design and e-commerce implementations to corporate branding solutions and microsites, Hark has always delivered creative, impactful solutions for the most challenging design and marketing projects.
ABOUT THE WEB MARKETING ASSOCIATION (WMA)
Founded in Boston in 1997 to help set a high standard for Internet marketing and corporate web development on the World Wide Web. Staffed by volunteers, this organization is made up of Internet marketing, advertising, PR and design professionals who share an interest for improving the quality of advertising, marketing and promotion used to attract visitors to corporate Web sites.
Want to learn more about how Hark can help?