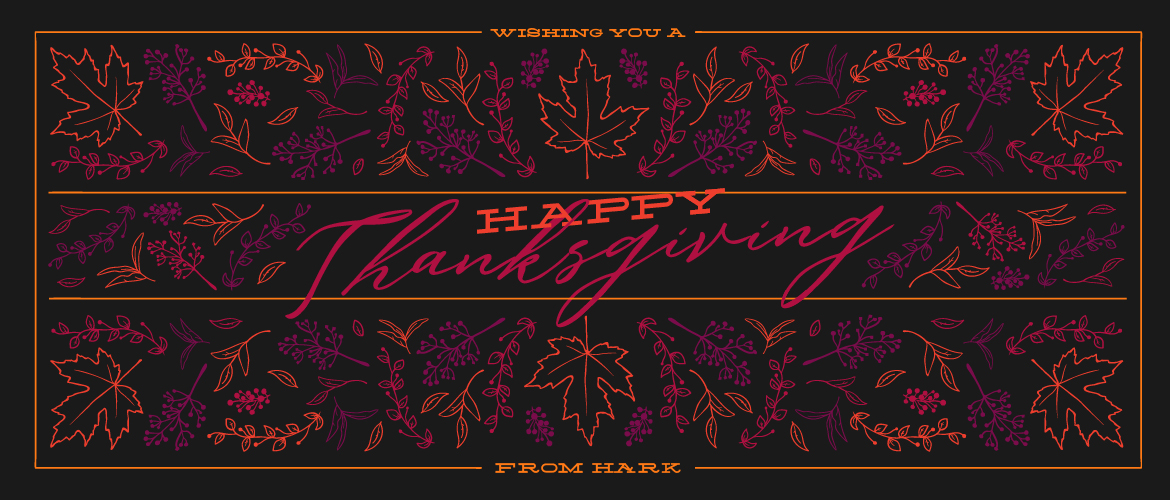 Happy Thanksgiving from Hark!
Author:
Aimee Albro - Account Director
A Note from the Digital Marketing Director
Happy Thanksgiving! This time of year, we like to take some time to reflect on how lucky we are. Working out of our beautiful Burlington Vermont office, it's easy to count our blessings. Personally, I am grateful for the ability to grow and evolve as we take on new clients, bigger, loftier goals, new technologies and tactics, and push ourselves as a full-service agency.
It's also easy, however, to overlook how none of this would be possible if it weren't for my team of passionate, creative, inspiring colleagues with which I get to collaborate each day. It takes the power and balance of every department to make the things we do matter. It's being able to brainstorm campaign ideas with a designer, or expanding my technical vocabulary with our Dev Team. It's having the opportunity to sit and share minds around the table each week on how we can pull all of our talents together to create something great.
My focus this Thanksgiving is to recognize the people who support us every day to do more, and allow us to grow as individuals through the sharing of knowledge in the spirit of camaraderie. As humans, we cannot do it all alone – everything we do takes the support of our communities, our families, and the people we spend our hours with each day. The beauty of humanity is in sharing our fortunes with others. As Margaret Fuller puts it, "If you have knowledge, let others light their candles in it."
Happy Thanksgiving to all, from Hark.
Explore more posts in the Hark blog –>
Want to learn more about how Hark can help?